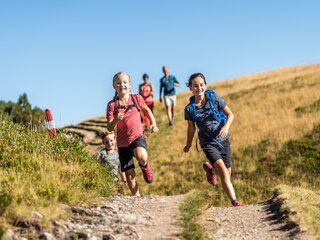 Pure action in Flachau
Many people think of summer holidays in the mountains as hikes or mountain bike tours. Of course you can do that in Flachau too, but with Sport am Jet we add a portion of action.
We hike with the Mountainskyve so that we can then speed down into the valley. We ride up to a mountain hut on the Segway and for hardcore mountain bikers we recommend the Stoneman Taurista - a real challenge of 123 km and 4,500 metres in altitude!
The way up is more comfortable, but the way down is no less fast with the mountain cart, because here the shuttle bus brings you up the mountain and the descent takes you along gravel tracks, off-road sections and through the forest.
E-Biking
Discover the Flachau mountains with (E)xtra Power! Our high-performance e-bikes with long-lasting battery allow you to go on long bike tours and are guaranteed to put a smile on your face!
Hiking
Enjoy the view, breathe in the fresh mountain air, enjoy a tasty snack at a mountain hut, unwind - that's what hiking in Flachau feels like! From easy family hikes to challenging summits for real mountain experts, Flachau has something for everyone.
Water
Whether it's fun and action at the Therme Amadé adventure swimming pool, white water rafting or relaxed stand-up paddling at the Flachauwinkl swimming lake - the element of water should not be missing from any holiday in Flachau!
Segway
Do you want to experience something new? Then the Segway is the perfect piece of sports equipment for your holiday in Flachau. Steering, accelerating and braking by shifting your weight offer a completely new driving experience that will thrill you. Discover the feeling of weightlessness, floating and freedom!
Mountaincart
Do you love tobogganing in winter? Then let's go mountain carting in Flachau! The shuttle bus takes you comfortably up the mountain before the wind whistles around your ears on the downhill. Of course, you set your own pace. Race downhill at high speed and really get into the turns or take it easy and enjoy the view of the surrounding peaks.
Your summer sports partner in Flachau
Sports store & rental store INTERSPORT Sport am Jet