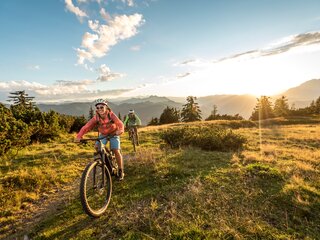 Your bike professional in Flachau
Rent the latest E-Bikes at INTERSPORT Sport am Jet
Bike rental in Flachau at INTERSPORT Sport am Jet - test the latest e-bikes directly opposite the bottom lift station of the Achterjet gondola in Flachau. With us you can not only rent the latest bikes and e-bikes but also Segways and mountain carts! No matter which mode of transport you decide on, you can explore the Flachau mountains, feel the wind in your face and enjoy freedom.
E-Biking
Whether riding leisurely along the Ennsradweg or cycling high up to the Grießenkar: e-biking in Flachau is always an experience. The best thing is to reserve your e-mountain bike directly online and look forward to your biking adventure with electric "tail wind" in Flachau.
Mountaincart
Do you enjoy tobogganing in winter? Then you should definitely try a ride on a mountain cart in the summer. First you go up the mountain, of course comfortably with the shuttle bus so that you arrive relaxed at the starting point. After a short safety briefing, it's time to pick up speed, drift through the curves and have fun. Of course, you determine your own speed. If you like to take it a little slower, just brake and enjoy the ride in Flachau at your own pace.
Segway
Do you want to experience something new? Then Segwaying is the perfect sport for your holiday in Flachau. Steering, accelerating and braking by shifting your weight offer a completely new driving experience that will thrill you. Discover the feeling of weightlessness, floating and freedom!
Anyone can learn, it's very easy to get started and after a short briefing you're ready to go. Decide for yourself whether you prefer to ride the Segway independently or whether you want to explore the countryside, go to a mountain hut or a village on a guided tour. Whatever you decide, the experience will be unique.
Pumptrack
Directly opposite our shop at the car park is our pump track for adults, teenagers and children from the age of 7. Children from 3 years of age are allowed to ride the pump track with a balance bike and in the company of an adult.
By simply pushing your body up from the depth of the wheel, you build up speed and thus traverse the course. On the pump track, you get a good feeling for riding in a playful way. The training area can be ridden on a track bike, scooter or skateboard.
Our bike rental range is diverse - just like the tours around Flachau! But whether hardtail, e-mountain bike full or children's bike, all our rental bikes have one thing in common. We only rent out the very best quality. After all, we are keen bikers ourselves and know what's important!
Your bike rental in Flachau
Situated directly by the Achterjet lift